DECA at Disneyland
Hang on for a minute...we're trying to find some more stories you might like.
Anaheim, California is usually known for Disneyland and California Adventure. However, between April 26 and 29, 20,000 visitors flocked there for another reason, the DECA International Career and Development Conference. ICDC is an international scale competition for DECA members who qualified through their state competition.
DECA is a business and marketing club who prepare students for various career fields, including Sports and Entertainment Marketing, Public Relations, Business Law and Ethics, and Restaurant Management.
The students either presented projects and startup ideas to judges or solved a case study and took an exam over their topic. However, they did get enjoy the city by going to a baseball game, Disneyland and Universal Studios.
The students who attend ICDC included: Stephani Sommer for her Public relations project, Charlotte Hech for Retail Merchandising, Gabby Dodgson and Camden Schmidt for Business Law and Ethics, Hannah Duncil for Entrepreneur Promotion, Ian Peters and Ian Alan for Creative Marketing, Joe Alonzo and Ty Sullivan for Franchise Business Plan, Luke Macy for Business Growth Plan, Jordan O'Hare, Thanh Nguyen, and David Garcia for Financial Literacy Promotion, Nicole Reyes-Aguilar, Dinora Andujo, and Tiffany Passehl for Community Service Project, Tristen Waggener and Israel Rosales for International Business Plan, Aaron Flores for Sports and Entertainment Business Operations Research, and Hunter Moore for Independent Business Plan.
In DECA, top twenty in each event, there are roughly 250 competitors in each event, move onto finals. After finals, at the awards ceremony the top ten are recognized with top three mentioned specifically.
East had three individual make it to both finals and top ten for their event, Luke Macy, individually, and Camden Schmidt and Gabby Dodgson in a team.
Next year, the competition will be held in Atlanta, Georgia.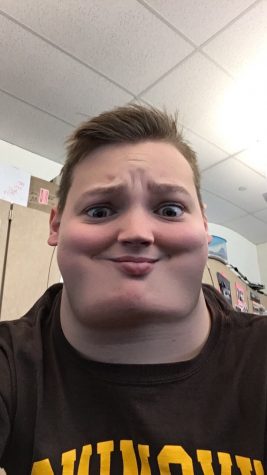 Camden Schmidt, On-line Editor
Class of 2019   Extracurricular: IB, Congressional Award, FBLA, Journalism, DECA and Debate.

Favorite part of Thunderbolt: Being able to express my...