Thunderbird DECA Dominates at State Level
Hang on for a minute...we're trying to find some more stories you might like.
In early February, 38 East students boarded a bus to the Cheyenne's Radisson Hotel. Each one was in his or her impeccable best – navy blue blazer, black skirt or dress pants, and hair in a professional style. The students carried project boards and notes, prepared to compete. State DECA had arrived and East was ready to dominate.
DECA is a business and marketing club, focusing on giving a "remarkable experience in the preparation of emerging leaders and entrepreneurs" according to their website. It gives students of all grade levels an opportunity to compete in events such as Fashion Merchandising, Sports and Entertainment Marketing, and Community Service.
The members of the East High DECA begin preparing for state months in advance by taking practice tests, participating in practice role plays, and working on their big projects.
The East chapter has worked on projects involving the Opioid Crisis, the Cheyenne Botanic Gardens, and the East PALS students. Most recently, the chapter helped to raise $2,500 for the Shriner's Children's Hospital.
"We are always very proud of the projects we put on throughout the school year," said DECA advisor, Mr. Flores. "Our goal is always to help people. This year we helped so many different types of people in so many different ways. It's great to see the DECA members making a difference."
Projects aren't the only thing that DECA specializes in. Senior Luke Macy, who reached 4th place in the world at the International DECA competition last year, and other DECA students also are very successful in their individual events as well.
"It was the best I've ever done," said Macy. "I got a 99 out of 100 on my role play, which earned me first place."
Individual events begin with the chapter members taking a one hundred question, multiple choice test over their area of choice. Members can go into events such as Entrepreneurship, Retail, and Restaurant Management. Then, members participate in role play situations, where they are judged on the ideas they present. If they're lucky, members will move on to the final round and get the chance at a state championship.
Almost all of the East DECA members were very successful and were able to finalize in multiple events. But others were unable to make it past the first round.
"All of the role plays are subjective," said Mr. Flores. "Sometimes the judge doesn't like your ideas, and that could cost you a shot in the finals. That shouldn't stop you from doing your best, and making it your goal to do even better in the future, though."
Those who didn't make it to finals plan to continue in DECA and make it to nationals in the future, but the finalists had an excellent shot at heading to Nationals. Specifically, 20 DECA members were state champions and will head to Atlanta in April.
"Nationals is definitely a more competitive atmosphere," explained Macy. "There are more people, and more difficult tests and role plays. You have to work a lot harder to be successful at the national level."
The members that are headed to Nationals have their work cut out for them, especially if they are planning to best one of the best in the world.
"You have to give it your all in order to win," said DECA President senior Nicole Reyes-Aguilar. "DECA has to be your focus in the months leading up to the competition."
The next three months will be full of tests, role plays, and prep for project presentations, all in the hope of claiming a world champion trophy.
Congrats to all of the State DECA Champions and National Qualifiers!
In the project areas:
2nd – Fashion Merchandising Promotion Plan- Tiffany Passel, Ian Peters, Nicole Reyes- Aguilar
2nd – Sports and Entertainment Marketing- Ty Sullivan
2nd – Creative Marketing Project- Elaina Macy, Elise Healey
2nd – Learn and Earn Project- David Garcia, Gerardo Almanza, Cesar Gallardo
2nd – Public Relations Project- Dante Duran, Hunter Moore
1st – Entrepreneurship Promotion Project- Stephani Sommer, Eleccia Wells
1st – Start- Up Business Plan- Luke Macy
1st – International Business Plan- Maeve Knepper, Israel Rosales
1st – Business Growth Plan- Hunter Moore
In the individual areas:
2nd – Hotel and Lodging Management- Keiki Miller
2nd – Quick Serve Restaurant Management- Hunter Moore
1st – Entrepreneurship- Luke Macy
1st – Quick Serve Restaurant Management- Stephani Sommer
In the team decision areas:
2nd – Financial Services- Thanh Nguyn, Ian Peters
1st – Business Law and Ethics- Stephani Sommer, Camden Schmidt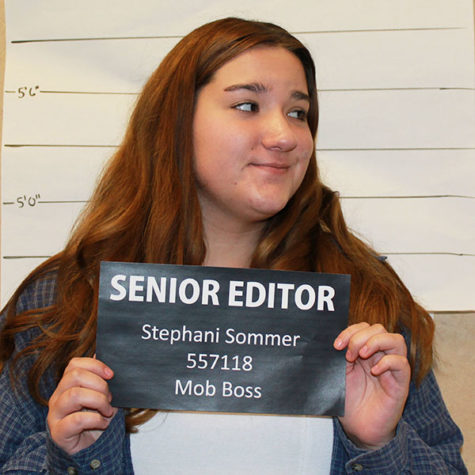 Steph Sommer, Senior Editor
Class of 2018! ;

Extracurricular: Strolling Strings, Student Council, Congressional Award, DECA, FBLA, NHS, International Baccalaureate, volunteering...