Tsimbinos is back in Thunderbird Nation
Hang on for a minute...we're trying to find some more stories you might like.
"Good morning! Welcome to East High, the school of excellence!" A familiar voice is now back at the front doors of East High, ready to welcome students and visitors to Thunderbird Nation. Leo Tsimbinos has been medically cleared to return to his honored position as East High ambassador.
Tsimbinos was born in New York and moved to Cheyenne in October 1989. Instantly he fell in love with the hometown feel and friendly atmosphere that composes Cheyenne saying, "I found paradise in Cheyenne."
Nowhere is his love for Wyoming more evident than in his work with the youth of Cheyenne.
For 26 years Leo has proudly served as an Adopt-a-School partner, until he took a medical absence in 2015. He started out as a volunteer with 4-H and FFA, but soon moved on to being an advocate for all children across the state.
Providing for the future has always been big for Leo, saying, "The reason I became an Adopt-a-School partner was to support the future of Wyoming and the future of Cheyenne."
When Leo's wife passed away, in her memory, he dedicated his life to the schools and children of Wyoming.
Being a longtime East booster, Leo has helped East with many projects, raising more than $100,000 for East High. He put in endless hours to make East High better every day.
"I sometimes worked 16 hours a day for East to support the wonderful kids," he said.
One of Tsimbinos's greatest strengths is his willingness to fight for children. He has spent a lifetime in pursuit of a better education and child experience by petitioning for school funds. This has included petitioning for the new Okie Blanchard Stadium and the remodeling of East High.
In 2002, Leo worked closely with Governor Jim Geringer and the state legislature to improve the living conditions for young participants at the Wyoming State Fair. After endlessly lobbying every politician he could, he was thrilled to see the state earmark $47,600 for new mattresses and $20,000 for swamp coolers in the state fair's dormitories. And, now, 15 years later, Wyoming's youth is still enjoying the results of Leo's determined work.
Having served in the military, Tsimbinos fought for the future prosperity of America in many ways. His recent absence was especially hard time for Leo since he was not able to help the community. Leo went to the VA for medical treatment so he could get better and return to East High as soon as possible.
After two years away from his participation in East's excellence, Leo is returning to do what he does best – help the kids at all costs. The biggest task Leo has for his return is to help more kids graduate.
"Graduation should be the goal of all kids, and I want to see bigger numbers walking across the stage," he said.
Mr. Tsimbinos' passions vary over a wide spectrum of events, from school security to extra-curricular activities such as DECA and FFA, and he is ready to get back to work. With an improved graduation rate and an amazing experience for all students as his missions for the school year, he plans to be everywhere, ready to cheer on the Thunderbirds.
"I attend every game and performance. The kids are great and I love watching them succeed."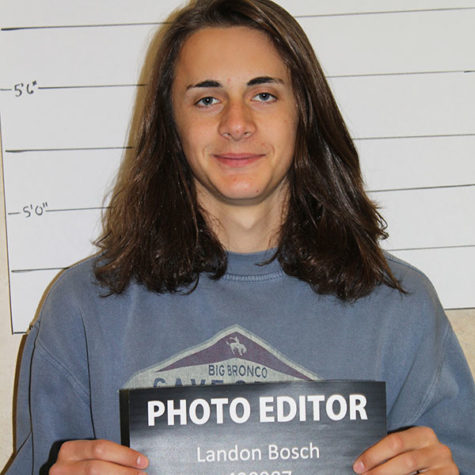 Landon Bosch, Sports Editor
Class of 2018
Cross country runner, viola player for strolling strings, and nature enthusiast.  The best part of the Thunderbolt is displaying our amazing...