The Boys (and Girls) of Fall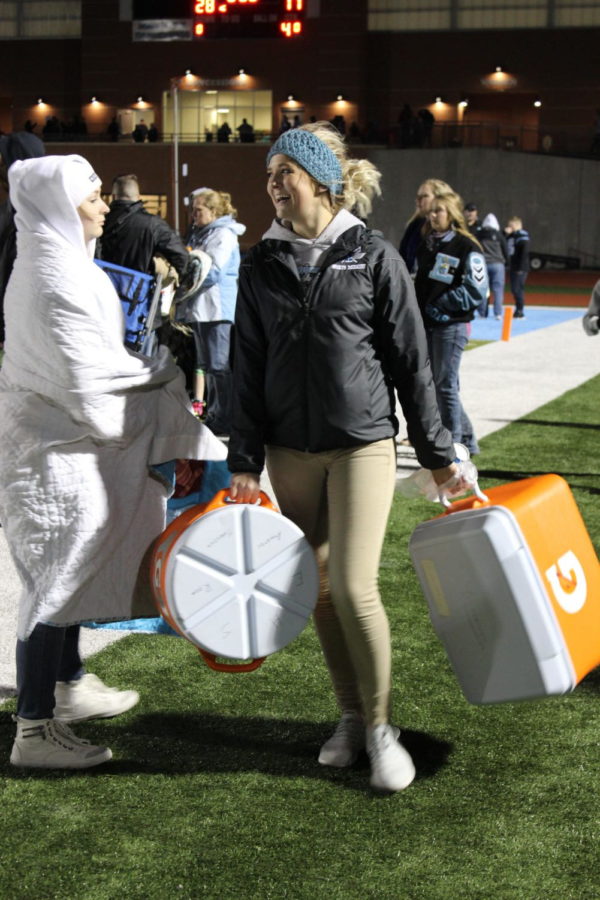 A seam opens in the offensive line. The running back lowers his shoulders and heads foor the gap. A linebacker spots the move and closes fast. Two bodies collide and the back stays down.
The refs blow their whistles and call for the coaches. Two assistants and the trainer head for the downed athlete. Trailing right behind them is a high school kid who has seen this before. She's prepared to do all she can to help. With tape rolls bobbing on her hip and a water bottle in each hand, she sees the player sit up and knows it's all under control. She quickly hands off the water to a couple of linemen, gathers the bottles, and head back to the sidelines. It's just another Friday night at East High for a select group of volunteers.
Senior Tatum Hayes is one of East's longest tenured student athletic trainers on the football team, having been helping the boys out since her freshman year. She takes care of the team in many ways, whatever they may need during practices or games.
"We do water runs mostly," said Hayes. "But we also do minor medical treatments, so bloody noses, Band-Aid's. And we also learn how to tape athletically, like ankles and fingers, if need be."
Though this may not seem like the most extravagant of jobs, Tatum loves it. Her favorite part is feeling like she is part of one big family.
"We're all just a big family," commented Hayes. "We never feel like we're out of the loop."
Even though Tatum enjoys being a piece of a team, and has loved it for the past four years, she has no intentions of going into sports management.
"I thought I did want to go into it, but I think I got my fill of it," said Hayes. "It's been great, but I don't really see myself going forward with it."
Though Hayes doesn't plan on heading forward as a sports manager, she will never forget her past four years being part of the football team.
"It's one of my favorite parts of the school year," claimed Hayes. "I will definitely miss it as I go on in the future."