Drink Up! The Official Ranking of East's Water Fountains
Hang on for a minute...we're trying to find some more stories you might like.
East High is home to over 15 water fountains, all scattered throughout the halls. Some don't work, some spray you in the face, and some have water bottle fillers. A common topic among students often involves water fountains, and which is the best. We decided to put this conundrum to rest, with Official Ranking of East's Water Fountains.
The fountains were ranked on a scale from 1 to 10, with 1 being the worst and 10 the best, in several categories, with the ability of achieving a perfect 70. They were ranked on Height, Appearance, Spray Height, Taste, Temperature, Rate of Water Release over 10 seconds, and how easy it was to fill a water bottle. (Note: Not all Fountains were ranked)
15. Salmon wall in Cafeteria: 1
This fountain simply didn't work. No water to taste or evaluate, so it got one point for its semi-clean appearance. I would rename this fountain 'The Fountain of Disappointment.'
14. Behind Cafeteria: 14
This fountain had a pretty decent rate of water release. It was an appropriate height for people, but its spray height lacked in definition, and the water was terrible. Where this fountain fell short was in taste and temperature.
13. IB Office: 16
Now, we are all well aware that this fountain doesn't work. However, it is one of the cleanest in the school, and it has one of best heights for an average sized person to drink from.
12. Music Hallway: 27
This fountain looks like it came straight from the 50s. It has a sprayer that hits the spray guard, but it still works! The water quality, temperature, and rate of release all are semi-applaudable, but still not number 1 water fountain worthy.
11. Lunch Line: 29
This fountain is just awkward. It's short, has bad water release, and a bad spray height. But it does look pretty clean and the water wasn't too terribly awful. This water bottle did receive a special remark for how easy it was to fill a water bottle.
10. Foreign Language Hallway: 31
This fountain looked very decent, clean and not moldy. The area where this fountain ranked the highest was in water temperature, it was very cold. So if you're willing to take a while to fill your water bottle, hit up this water fountain.
9. Upstairs by Boys Bathroom: 37
This fountain ranked poorly in spray height. However it ranked average in height, water taste, rate of water release, and temperature. Its appearance and ease to fill water fountain note highest for this fountain at 7 for both.
8. Next to room 705: 41
This spray height was exceptional at 4in, it was extremely easy to fill a water bottle, and its water didn't taste that bad, just slightly waxy. The main problem is that the water is warm in temperature.
7. Next to room 512: 43
This fountain ranked perfectly for height. However, this fountain sprays you in the face then shrinks back down to a measly 4in. The taste of the water and its temperature were both good.
6. Tie: Upstairs by Girls Bathroom and Health Care Hallway: 47
Both of these fountains had descent rate of water release and spray height. Their water was tasty and cold. Their height was perfect for the average sized person, and both fountains looked nice.
5. Library Hallway: 54
This water fountain height was good because there are 2 fountain options. Its spray height and rate of water release both ranked higher up. Where it lacked was in its water taste because it was very metallic, and it was hard to fill up a water bottle.
4. Echoes Office: 55
This fountain was highly rated in rate of water release and the taste of the water. The temperature was also very cold. Where this fountain lacked was in its height, being a little short, and spray height, because it sprays you in the face then jumps back down.
3. Tie: Science Hallway and Horizon's Office: 57
Both of these fountains have outstanding rates of water release. They both are great heights, and their spray heights help to improve their ease to fill a water bottle. Their water quality and temperature are both 8's.
2. Gym Hallway: 60
Naturally, this fountain ranks higher up because it has a water bottle filler on it. It is extremely easy to fill a water bottle, and provides you with delicious, cold water to drink. If you're just looking for a quick drink, the spray height is good, and doesn't spray you in the face. This fountain is also very clean looking.
And the number one water fountain in East High is…
1. The T-Bird Nest Hallway Fountain: 61
This fountain was fantastic!!! Its height was perfect and it was clean. The water quality was ranked at an 8, and the water was very cold. It was extremely easy to fill up a water bottle and it had an awesome spray height.
Overall, East has a variety of water fountains that offer different options of water. If you're looking for cold, tasty, quick water, head over to the T-Bird Nest. But if you like warm water that tastes great, or to miss the most class by choosing the fountain with the slowest rate of water release, there's a water fountain for you.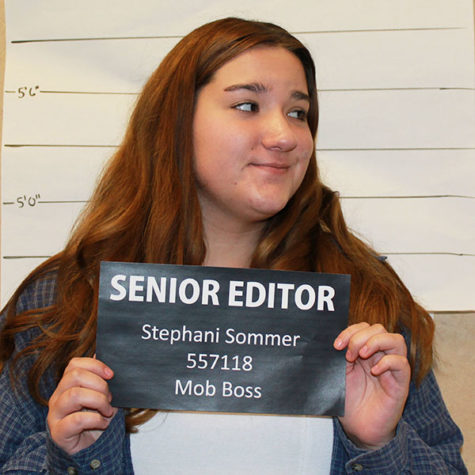 Steph Sommer, Senior Editor
Class of 2018! ;

Extracurricular: Strolling Strings, Student Council, Congressional Award, DECA, FBLA, NHS, International Baccalaureate, volunteering...