Girls Swim to State
Hang on for a minute...we're trying to find some more stories you might like.
Following months of tough practices, mental blocks and meets every weekend, the girls swim team went to the Wyoming Girls 4A State Swim and Dive. Led by Captains Kelly Farris, Briley Phipps and Maci Stewart, the girls headed up for the last meet of the year with four divers and seven swimmers.
With the State meet being the biggest for the girls every year, it can be overwhelming. "I enjoyed it," said sophomore Arden Cherek. "It was something new though. It was my first time so everything was a bit overwhelming.
But that overwhelming feeling didn't affect East's team. Of the four divers, all of them made it back to finals and placed. Sophomores Braeden Stewart and Erica Farris took 6th and 7th with 340.35 and 339.90 points, freshman Elaina Macy claimed 8th with 3287.65 points with senior Briley Phipps grabbed 11th with 308.05 points.
"State was my goal and I did that," said Elaina. "I'm looking forward to next year."
While the swimmers didn't have anyone place in the top six, seniors Kenna Smith and Kelly Farris both placed in the consolation finals for both of their events. Farris taking the 200 IM and 100 breast while Smith swam the 200 free and 100 fly
While East placed one spot higher this year, at 8th, a few of the girls were disappointed that the results weren't what they wanted, the underclassmen remain hopeful for the coming years.
"I'm definitely looking forward to next year," exclaimed sophomore Ruth Potter. Potter was one of the younger swimmers to go to state this year, competing in the 200 and 500 free.
Next year's team will be a younger team, as there'll only be two seniors leading the team.
The Lady Thunderbirds that swam at state include: Kelly Farris, Kendrew Ellis, Saige Smith, Kenna Smith, Cheyanne Farris, Jo Langlois, Ruth Potter and Arden Cherek. The Lady Thunderbird divers consisted of Briley Phipps, Erica Farris, Braeden Stewart, and Elaina Macy.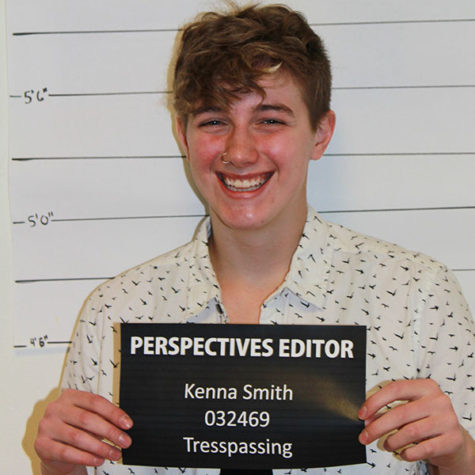 McKenna Smith, Perspectives Editor
Perspectives Editor
Class of 2018
Extracurricular:  Swimming, films, ice  cream scooper and bass player.

Favorite part of Thunderbolt: Meeting new...