Orchestrating an Outstanding Orchestra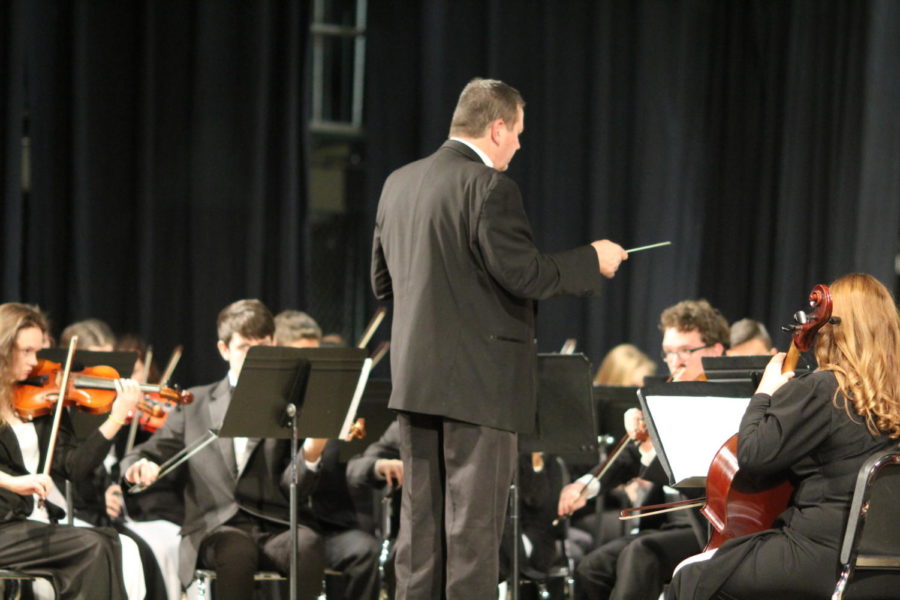 With over four decades of experience conducting high school orchestra, Bob Mathews is one dedicated teacher. Over the course of his career, Mathews has highlighted all types of music from movies to classical pieces. Teaching at both Carey Junior High and East High music, Mr. Mathews has played a significant role in the East Triad's music department and has deep roots in the Cheyenne music community, playing in many fundraisers and community events with his group, the East High Strolling Strings.
Most recently, Mr. Mathews and his orchestra performed their fall concert series which heavily focused on celebrating veterans and the armed forces. Standard with all of East's orchestra concerts is the playing of the Star Spangled Banner by the freshmen orchestra featuring the East High ROTC Color Guard carrying the Wyoming and American flags. The concert also featured songs such as Sweet Caroline and The Armed Forces Salute, offering a diversity of music genres played by a varying skill of strings.
Connor Brown, the first chair for the Viola section in the chamber orchestra, said the most exciting part of orchestra was the rehearsals leading up to the concert and getting to see how the finished product turns out at the concert. Brown's favorite piece from the concert was God Bless America.
Mr. Mathews teaches three classes at East including freshmen orchestra, concert orchestra, and chamber orchestra. One of Mr. Mathews signature concert pieces is bringing all of East's orchestras out on stage to play one grand finale, a tradition that has been a part of East's orchestra for a long time. This year the Fall concert's finale was God Bless the U.S.A.