#DefendDACA
Hang on for a minute...we're trying to find some more stories you might like.
If someone was to come to you and tell you had to immediately leave your family and friends, never to return, what would you do? What if you were forcibly sent to a country you don't remember coming from, what would you say?
The Deferred Action for Childhood Arrivals (DACA) was a program created by Barack Obama by executive order in 2012, which temporarily protected illegal immigrants from immediate deportation that came to the US as a minor accompanied by adults.
In September, that nightmare came true. Illegal children have to struggle living here and are judged for it every day. They are now being forced back to homes they don't even recognize.
President Donald Trump ended any chance of new recipients to apply for this program and left 800,000 dreamers unprotected. Ending DACA could leave thousands of people unemployed. Once their permits expire they will be subject to immediate deportation.
This is a very big decision that could affect many people. This decision affects one usually unnoticeable senior at East High School. "Lisa" was brought to America as a child from Mexico.
"Lisa" never applied for the program, but now there is a strong possibility that she could never apply for it now.
"It's gonna be hard for me to find a job or go to college after high school," she claims. "It's just gonna be more difficult to have a career."
She and other "dreamers" may find themselves in a nightmare if Congress doesn't step in to change this presidential policy. The Justice Department is giving Congress six months to save the policy.
"Lisa" says she would be happy for the other dreamers and herself if congress does save the policy in the next six months. She supports all dreamers by adding that their jobs could be taken away.
"A lot of people have applied for it and have it still," she said. "If they take it away, a lot of people are gonna not have jobs, so it kinda makes me happy knowing that it could come back and help everyone else that has it."
President Trump claims it won't affect the majority of illegal immigrants. "Does anybody really want to throw out good, educated, and accomplished young people who have jobs, some serving in the military? Really!" Trump said in a tweet on September 14. "They have been in our country for many years through no fault of their own – brought in by parents at young age."
"Lisa" believes Trump is a hypocrite.
"At first he was saying that we're dreamers but also that there's dreamers in America that aren't immigrants and he practically said that it didn't really matter about us and that he had to care more about the people.
"But we are also his people as well because we have been here, we've been studying, we've been working, and paying taxes too, so it kinda just makes me feel angry because he's just being a hypocrite about all this and not really taking it seriously as he should be."
This decision affects many children and they hope to have a chance to be able to stay at the only place they've ever called home.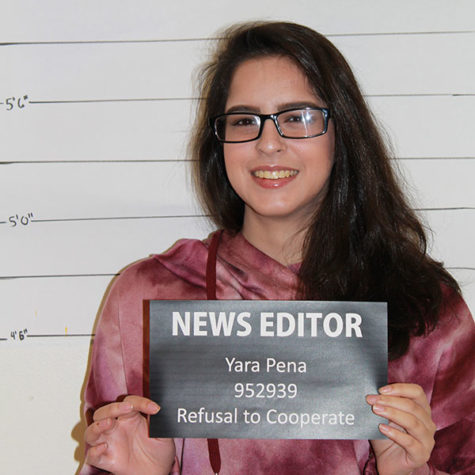 Yara Pena, News Editor
Class of 2018! Extracurricular Activities: binge watch Netflix, hang out with my friends; What I like about the Thunderbolt is that I can challenge myself...